there is not much video content on youtube unfortunately.
0 coast and mother32 seem to be much more popular
Thanks for the idea of a Facebook group, maybe if I have more time in the near future, I can set one up. I also have seen that video on Youtube (among the few others posted). The Mother32 and 0-Coast do seem quite a bit more popular and have a lot more of a community developed (cult following).
Hey,
does anyone who owns a Lifeforms SV-1 could confirm, that it´s making strange digital Noises in OSC1 at around 4khz when the Sub is turned on?
thanx
Richard Nichol at Pittsburgh Modular demos the new Lifeforms SV-1b variation in great depth - some lovely sounds and great patch ideas here too: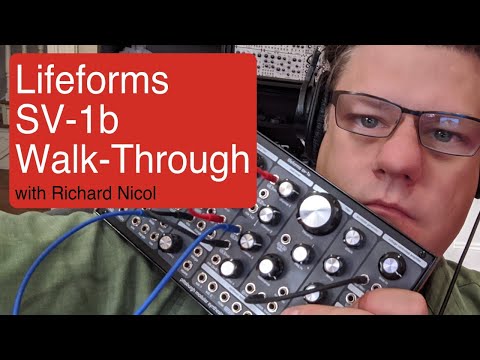 Totally agree - it's a lovely sounding synth and if I was in the market for an east-coast semi-modular this would be a pretty strong contender. As it is, the Microvolt would probably be more up my street as it's equally lush sounding… No immediate need.
The patch ideas are pretty cool too - I've been trying to remind myself how to do analogue bitcrush(ish) effects for a while - knew it was possible - so this has been a great reminder. I've been hoping to build a bitcrusher into a patch on the Aira Demora which doesn't have that functionality - presumably not to step on the toes of the Aira Bitrazer.
Pittsburgh Modular have really gone to town on their videos over the last year or so since the Voltage Research lab appeared - I just missed out on one of the last ones available of them, and it's a shame they won't be making any more, it seems.
All the more reason to use this video to explore the SV-1 in more detail; its been a little neglected somewhat recently, but the sounds on the video were a great reminder of just how amazing it can sound, and how weird it can get too when needed.
According to a comment by Pittsburgh Modular, under the Walk-Through video above, they are working on making more VRLs.
Cheers!
best sounding analog oscillators i've ever heard…bar none
During the walk-through Richard indicated that this wouldn't be more of the current design, but an evolution of it; which is fine with me.
Oh, I didn't catch that. I just saw that someone complained about the Voltage Lab being unavailable, and that was their answer.
At any rate, considering that they're releasing this new version of the SV-1, with how popular the VRL seems to be, you'd think they'd want to keep making those too. Here's hoping anyway, I kinda wanted a VRL for myself.
Cheers!
I love my SV-1 (V: a?), I love the video for patch ideas and the honesty, if you have V1 dont bother upgrading!
Are Pittsburgh Modular a bit of a hidden gem? You don't see a lot of their stuff in racks on here although they seem well regarded, too pricey?
It's a really good question: I just don't think they have the same recognition as others because nothing of theirs is wild in the sense Make Noise or Mutable is. It's just solid and solid is not exciting. Which is not a criticism at all.
The SV-1 was one of the first semi-modulars I got, around the same time as the Dreadbox Erebus and 0-Coast; I learned a lot form all three, though the latter two drew me more for some reason. But every time I get going on the SV-1 it draws me back in to just how fantastic it sounds, and now I'm running it through the mixer input of an MFB Kraftzwerg II for the joy of it.
I thought Pittsburgh was fairly well know, obviously not as much as Mutable Instruments.
I got my hands on the SV1 a few months back in a swap. It sounds bloody excellent, so much so I've hardly looked at other mono synths since; I'm only interested in acquiring modules to compliment / expand it. I got the x2 48 hp case with it which I view as a healthy limitation!
Ive done the exact same thing with my Microvolt. Felt it did the solid thing well enough that I could go further off-piste: sold my M32 for a "mini" shared system.